Last Updated: March 4, 2022
It's important to be prepared for storms and natural disasters. Does your business have a plan for recovery? Are you prepared to withstand the effects of an emergency situation?
In 2021, the National Oceanic and Atmospheric Administration (NOAA) reported that the U.S. has experienced 10 weather disasters that exceed $1 billion in damages. This makes 2021 the sixth year in a row with at least 10 weather events so extreme — a record in and of itself.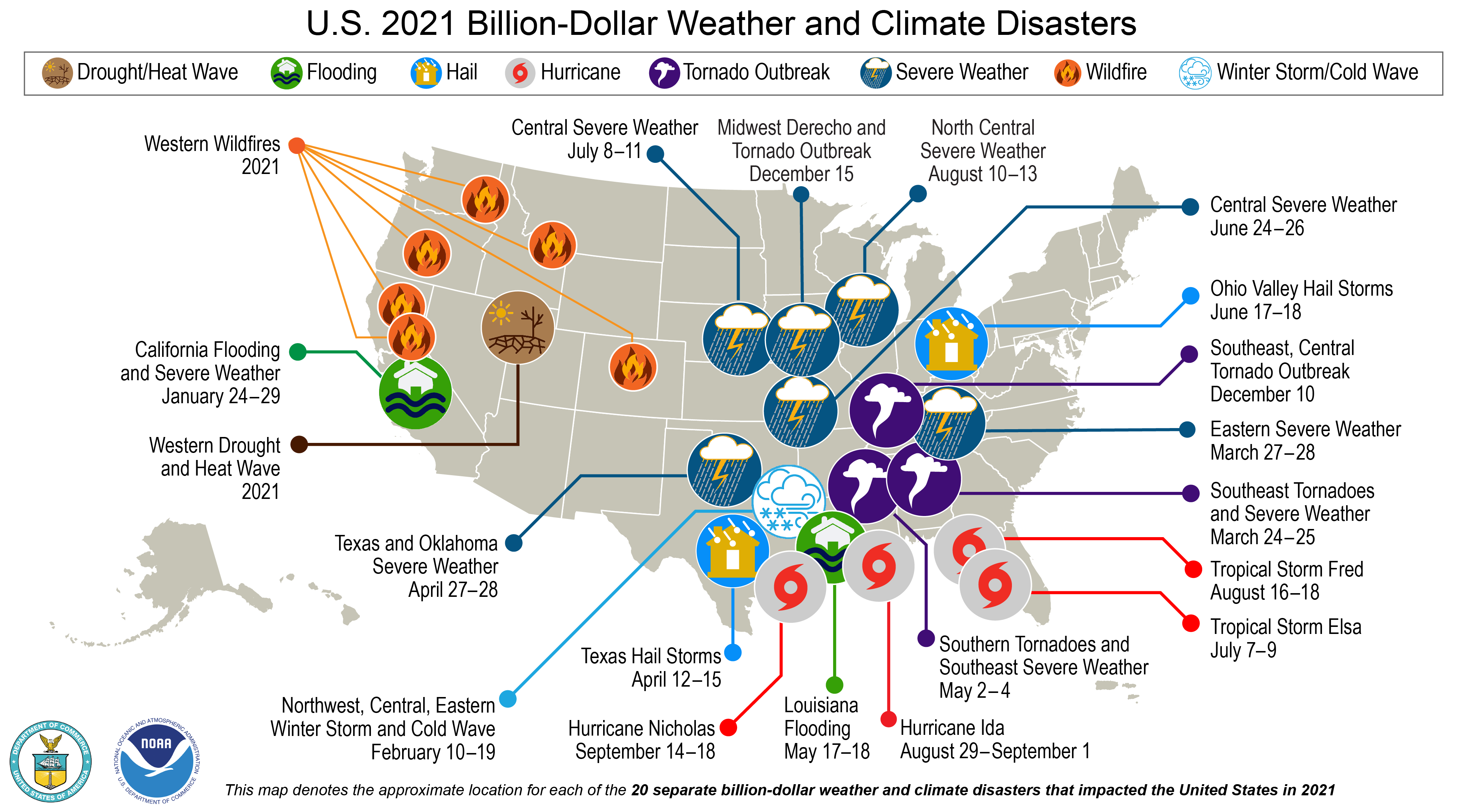 NOAA: Billion-Dollar Weather and Climate Disasters [As of January 10, 2022]
Unfortunately, natural and man-made disasters can be sudden, unexpected, and completely devastating to business operations. And they are becoming more severe and more common. If they are not managed efficiently, major storm events can lead to permanent business closures. As we have now officially entered storm season, bringing with it the impacts of heavy rains, winds, tornadoes, and hurricanes, it's important to be as prepared as possible. Storm damage is not only devastating, it's costly.
According to the Insurance Information Institute, disaster-related losses in the United States in 2019 totaled $25.5 billion. This does not include estimates for work and income loss due to business interruption. According to FEMA, 40% of businesses impacted by storm events will not reopen after a disaster if they aren't prepared, and 25% of businesses will shut their doors forever within a year.
Emergency Readiness & Response
Business owners can easily be blindsided by disasters. Preparedness now means you won't have the stress of making those imminent decisions during the stressful period when a major storm event hits.
Venture Construction Group (VCG) helps property owners get back to normal as quickly as possible. We specialize in residential and commercial storm damage repairs and restoration work due to hurricanes, tornadoes, hail damage, water and wind damage.  We provide free property inspections and consultations and swiftly mobilize our expert crews to repair your property quickly.
Emergency Services
Free Inspections & Consultations
24/7 Emergency Services
Storm Damage Restoration & Repairs
General Contractor Services: Siding, Windows, Doors, Framing, Gutters, Flooring, Drywall, Insulation, Fire Walls, HVAC, Electrical, and more.
Roofing Repairs & Replacements: TPO, Single Ply, BUR, Foam, Concrete, Tile, Decra, Metal, Aluminum, Asphalt Shingles, Cedar Shake, & PVC Single Ply
Hurricane Damage Repairs
Hail Damage Repairs
Tornado Damage Repairs
Wind Damage Repairs
Water Damage Repairs
3rd Party Expert Property Damage Assessment
Pre & Post Storm Inspections & Assessments
Water & Mold Mitigation
Fire Related Property Damage Restoration
Flood Related Property Damage Restoration
HAZMAT Related Mitigation
Emergency Cleanup & Debris Removal
Roof Emergency Dry-In / Temporary Repairs & Protection
4K / HD / 3D Drone Mapping
Be Prepared
It's important to have your property routinely inspected each year.  For businesses, we recommend a comprehensive roof and building envelope inspection. By taking preventative action, you can reduce property damage, prevent loss, and minimize financial impacts, and maybe even save lives.
Disaster Preparedness Checklist
Identify your specific risks for disasters based on weather events in your geographic location and/or business industry.
Sign up for alerts and warnings of potential threatening weather events in your area, so you'll be first to know of their trajectory.
Develop a Business Continuity Plan and a Disaster Response Plan for dealing with disasters.
Be sure to also periodically check with the Centers for Disease Control (CDC) to update your emergency plans due to Coronavirus.
Hire a professional Emergency Response Team that you can count on to be on the scene immediately following a major storm event.
Schedule annual property inspections with a Licensed, General, Contractor. If any major or minor issues are detected during your property's inspection, prioritize making recommended updates.
Create a list of essential contacts including utility companies, staff, tenants or residents, vendors and suppliers.
Prepare an emergency supply kit. Don't forget to include masks, sanitizers and cleaners to prevent the spread of Coronavirus.
Maintain copies of site maps, and identify your evacuation routes and local shelters.
Review your insurance policies and make sure you have the coverage you need and that you understand it.
Safeguard important documents, including insurance, inventory lists and company paperwork.
Secure your supplies, equipment and valuables.
Practice, practice, practice! Get your team involved. For every job there is to do, someone must be designated to do it. Identify key personnel and outline their roles. Meet with the entire team to review your communication plan, run regular drills, and include your tenants and residents in your plans as well.
If a disaster occurs, make health and safety your first priority. Stay aware and watch for safety issues that could arise, such as washed-out roads, contaminated buildings, contaminated water, gas leaks, broken glass, damaged electrical wiring and slippery floors. Inform local authorities about health and safety issues, including fires, chemical spills, and downed power lines.
When faced with a disaster, contact your emergency response team as soon as you and the people you are responsible for are safe.
Be sure to keep your checklist and plan backed up on the cloud and printed. You may also want to post these documents throughout your office. It's important to review these plans and policies at least annually and make revisions as needed.
About Venture Construction Group  
With over 20 years of experience and the industry's top accreditations, Venture Construction Group (VCG) is a full-service general contractor that provides construction, remodels, renovations, property management services, storm damage repairs, consulting, independent 3rd party property damage assessments, and 24/7 emergency services to residential and commercial property owners. Call 1-866-459-8348 for a free consultation.
RESOURCES
NOAA: Billion-Dollar Weather and Climate Disasters
Insurance Information Institute: Facts + Statistics: U.S. catastrophes
FEMA: Document & Insure Your Property
FEMA: Know Your Alerts & Warnings
Ready.Gov: Business Continuity Plan
Ready.Gov: Preparedness Planning for Your Business
Centers for Disease Control and Prevention (CDC)