Last Updated: March 9, 2022
It's Flood Safety Awareness Month! It's important to be aware of what to do before, during and after a flood! Over 90% of all natural disasters involve flooding in the United States. Preparedness is key. 
According to the NOAA, flooding is one of the most damaging types of natural disasters. NOAA's recent analysis of major disasters since 1980 found that inland flooding accounted for $150 billion in damage during major disasters, which are those that cause at least $1 billion in damage. 
You can minimize the damage by being prepared, staying informed and knowing what to do before, during, and after a flood. 
Flood Preparedness 
Know Your Risk 
The best way to prepare is to know your risk. The threats from floods can vary widely depending on where you live. Some areas are more likely than others because they're in a floodplain. Find out whether your home and/or business is in a flood-prone or high-risk area with FEMA's Flood Map Service Center. 
Create A Plan 
Have a plan in place to communication with friends, family and staff members in the event of a flood. Determine your evacuation plan and ensure that everyone is informed. Check out FEMA's Family Communication Plan.
Business Continuity Plan
Don't be a statistic! If you have a business, ensure that your company is prepared. More than 40% of businesses never reopen after a disaster, 25% will close after a year, and 75% without a business continuity plan will fail, according to the Federal Emergency Management Agency (FEMA). Ensure that your Business Continuity Plan is solid. 
Get Flood Insurance
Standard insurance policies do not cover flooding. Flood coverage is provided by the federal government's National Flood Insurance Program. Remember, flood insurance takes 30 days to take effect, so it's important to have it before you need it.  
Gather Emergency Supplies 
Create an emergency kit including flashlights, batteries, a battery-operated radio, a first aid kit, medication, emergency food and water, cash and credit cards, and pet supplies if needed. Make sure you have medications and copies of your critical information on hand in the event of an evacuation. Check out FEMA's recommended supplies checklist. 
Know the Difference Between a Flash Flood Warning and a Flash Flood Watch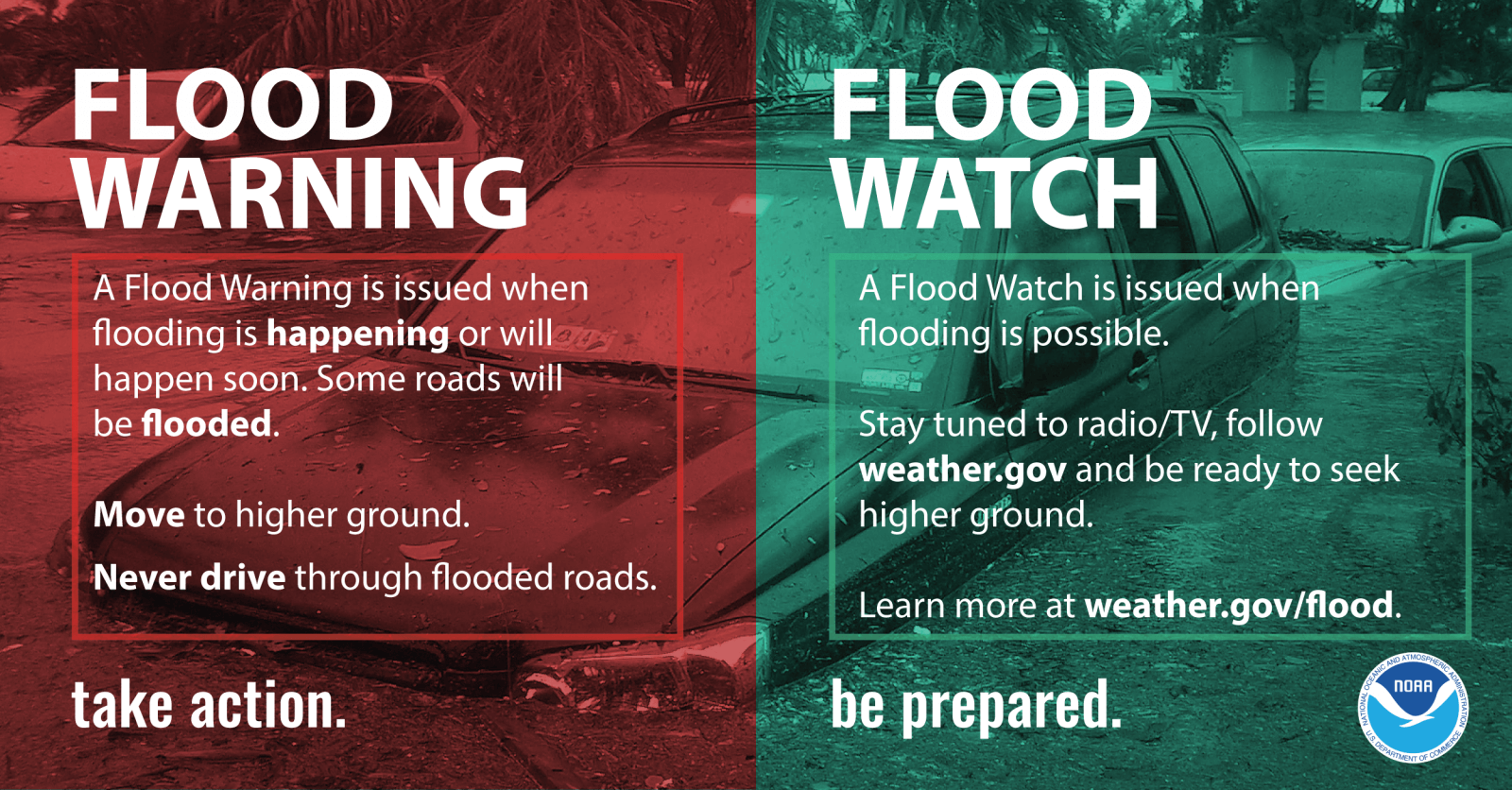 A Flash Flood Warning is issued when flooding is currently happening or is going to happen soon. Take immediate action.  A Flash Flood Watch means a flood is possible in the area. Stay tuned to weather stations and local officials for news.
Protect Your Home and/or Business
Store important documents and valuables in a waterproof safe in a high area. Disconnect appliances and equipment. Locate switches for gas, electricity and water and turn them off. If needed, place sandbags around your property.  
Evacuate If Necessary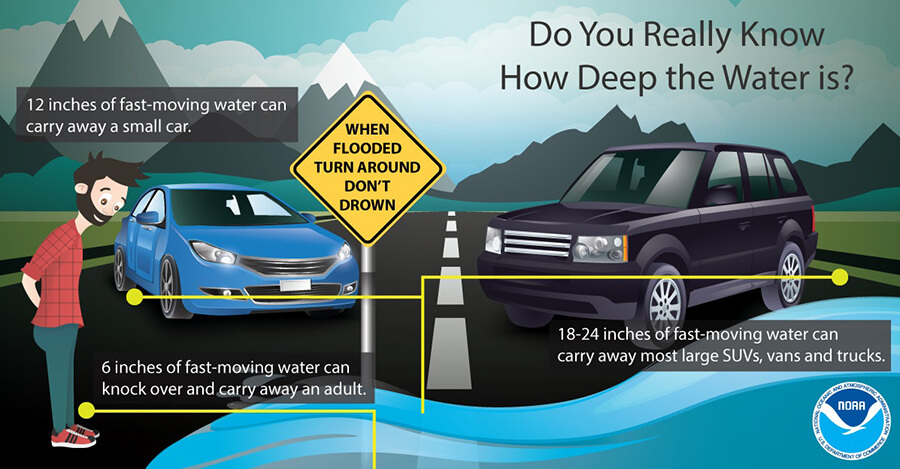 In case you need to leave, have your evacuation plan in place. Find the safest and most efficient way to exit, well in advance. Although, if there's heavy rain and flooding, avoid driving or walking across flooded roads. According to the Centers for Disease Control and Prevention, the most common flood deaths occur when a vehicle is driven into hazardous floodwater. Turn Around, Don't Drown! Just six inches of fast-moving flood water can sweep an adult off of their feet. It only takes 12-18 inches to sweep away most vehicles in floodwaters.  
Stay Informed
Download weather apps in advance so you have them when you need them. Sign up for local alerts on your phone. Visit Ready.Gov Alerts and sign up for local weather apps and alerts. The FEMA app includes safety tips, alerts, and disaster resources.
After the Flood
Only go back to the property when it's cleared by emergency personnel. Make sure the power is off. Wear protective gear including gloves, masks and waterproof boots. In addition to critters, snakes, and things that bite, floodwaters can contain harmful contaminants and bacteria. 

Take photos and video footage of your home, business and belongings to support your insurance claim. 

Contact a licensed flood/water damage restoration company to professionally manage the cleanup. It's important for proper dry-out, water removal processes and to prevent mold. 

Contact your insurance agent to open an insurance claim if necessary. 
About Venture Construction Group 
With over 25 years of experience, Venture Construction Group (VCG) is a leading restoration company providing water mitigation, flood damage restoration, mold remediation, and storm damage repairs.  
RESOURCES
FEMA: Flood Map Service Center 
FEMA: National Flood Insurance Program 
FEMA: Family Communication Plan 
Insurance Information Institute: In Case Of A Flood 
Ready.Gov: Emergency Supply Kit Checklist 
Ready.Gov: Emergency Preparedness Kit