Last Updated: March 28, 2022
It's Tornado Awareness Month! Tornadoes can destroy buildings, flip cars, and create deadly flying debris. On average, 1,200 tornadoes with winds as high as 300 mph occur each year. According to the National Oceanic and Atmospheric Association (NOAA), the 2021 season saw 1,376 tornado reports. As tornadoes can happen at any time of the year, spring is considered tornado season for much of the U.S. The terms "Tornado Alley" and "Dixie Alley" are areas in the Great Plains and Deep South that get hit year after year with a high number of tornadoes. It's important to remember that tornadoes can happen and have been reported in all fifty states! As always, it's important for all of us to be prepared.
What To Do Before A Tornado
Since tornadoes can occur without any warning, it's best to take precautions in advance to help you stay safe if a tornado occurs in your area.
Create a Plan: Communicate your plan with your family, friends and staff members in the event of a tornado. Create a supply kit. Practice emergency drills. Have a Business Continuity Plan in place.
Review Your Insurance Policy: It's important to review your policy to ensure you have adequate coverage. Call your agent to clarify.
Download Weather Apps & Alerts: Download Wireless Emergency Alerts on your mobile phone, so you're prepared when you need to be. Listen to the radio, TV or NOAA Weather Radio for warning information. Public Warning Sirens are used in many towns to warn people of tornadoes. Know the difference between tornado watches and warnings.
Protect Your Home and/or Business:  It's important to get annual roof and exterior envelope inspections to detect and mitigate minor issues before they become major. Routinely trim trees and shrubs. Inventory your home or business. Take photos of the interior and exterior of your property if you ever need them for an insurance claim.
Know the Signs: Often, there is little or no warning. Pay attention to these other cues that could alert you of a nearby tornado: dark , green-colored sky; hail; a loud freight train sound; thunderstorm; a large, dark low-lying cloud; and an approaching cloud of debris at ground level.
Vetted Contractors: Keep a list of expert contacts, including a licensed, accredited general contractor, expert roofing contractor, electrician, plumber, and water/flood remediation company.
Know the Difference Between a Tornado Watch and a Tornado Warning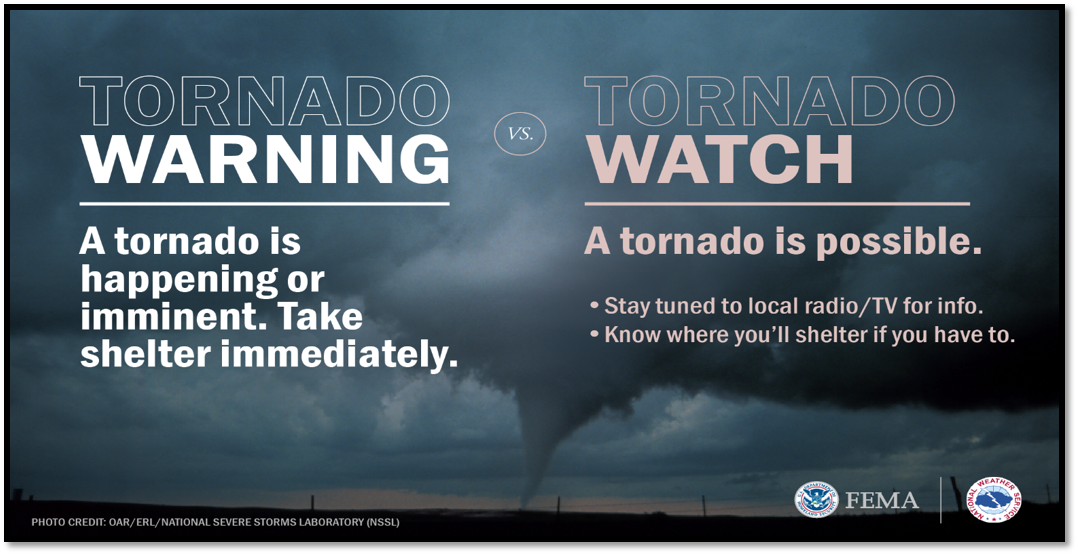 A Tornado Warning is issued when a tornado is already occurring or will occur soon in your area. Evacuate if advised to do so. A Tornado Watch means a tornado is possible in the area. Stay alert for more information.
Tornado Ratings
The Enhanced Fujita Scale or EF Scale below is used to assign a tornado 'rating' based on estimated wind speeds and related damage. Each category in the EF Scale has been assigned and estimated wind speed and damage impact by ranking how extreme a tornado was after its impact has been determined.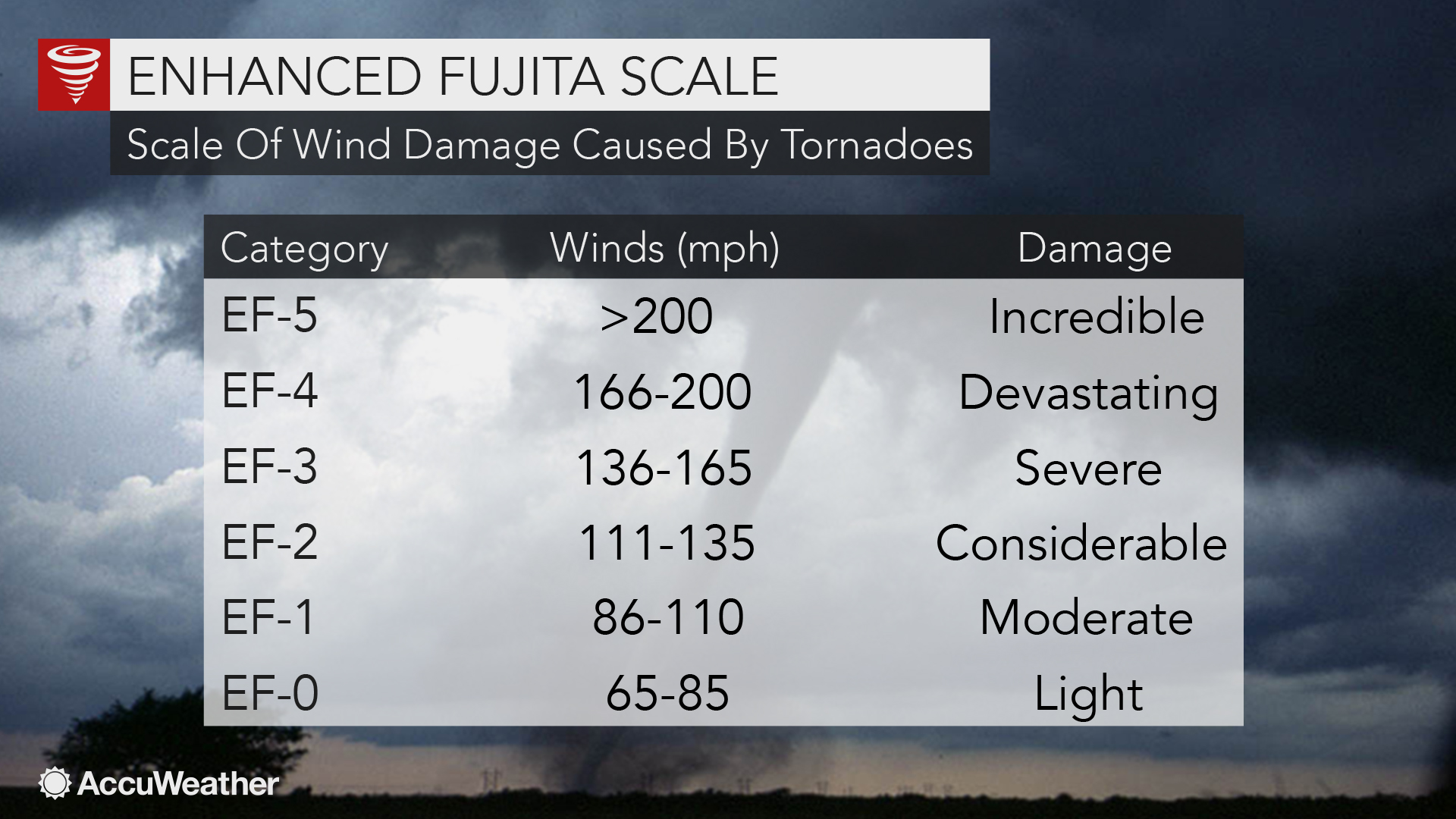 What To Do During A Tornado
The best way to protect yourself is to get to a lower ground immediately. If possible, avoid sheltering in a room with windows. If you have access to a safe room, use it. Don't stay in a mobile home. If you're outside or in a mobile home, find a nearby building preferably with a basement. If you're in a car, don't try to outrun a tornado, but instead find the nearest sturdy building.
What To Do After A Tornado
Wait to enter a building or home until cleared by emergency personnel. There could be fallen power lines or broken utility lines, leaking gas pipes or fuel tanks nearby.
Before you start trying to clean up, take photos of the damage for insurance claims.
Contact a professional licensed general contractor for a free inspection and damage assessment on your repairs. Check out our article: 5 Tips To Select A Roofing Contractor.
Call your insurance agent to open an insurance claim.
Venture Construction Group: Storm Damage Restoration Experts
As a general contractor with over 25 years of experience, Venture Construction Group (VCG) specializes in residential and commercial construction, roofing, renovations, storm damage repairs, and emergency services. We provide free property inspections and consultations and swiftly mobilize our expert cews to repair your property quickly as possible. Contact us for a free property inspection!